It´s summer time, and nothing better than a beach ride.
We invite you to enter in this spirit of nature, forest, trails, mountains and beach on a MTB or Gravel bike. You ether can return by bike after Arrabida or take the train in Setubal back to Lisbon. This special track made for a bike enthusiastic. We recommend to be prepare for technical trails, sand, climbs and particular hot heater during the middle time. Drink water, respect your self, enjoy with conscious. Don't forget the swimming suite
Recommend Bikes: Grand CANYON AL or GRAIL AL
You know that we push your into to freedom and independent bike tours. The Transraya ride is a to do for bike explorers mindset. Ether on a MTB or Gravel you will be able to meet incredible landscapes between Portugal and Spain Starting in Castelo de Vide where riders can travel by BUS with bikes and return back to Lisbon by train from the Vila Real de Santo António.
NEXT Shop BIKE RIDE:
Join us for an amazing road ride starting from our shop getting the ferry to Seixal and ride 35K into the amazing natural park of Arrabida. We will return by train or you can return back using the same way. Book your road bike https://www.lisbonbikerentals.com/our-bikes/ and access for free in this happy new year ride.
Road Route of the month! 100K . 👌✌️😎🚵🏿‍♀️
Lisbon to Sintra with nice view points and the best place to lunch in a family cycling environment over the beauty of our Atlantic ocean.

We provide organised cycling tours and events on whichever vehicle you prefer: road, mountain, cyclocross or electric fat bike. The experience can be customised or you can choose from one of our existing tours below. To customise the experience for you, your group or your company, please get in touch through our contact form.
_____________________________________________________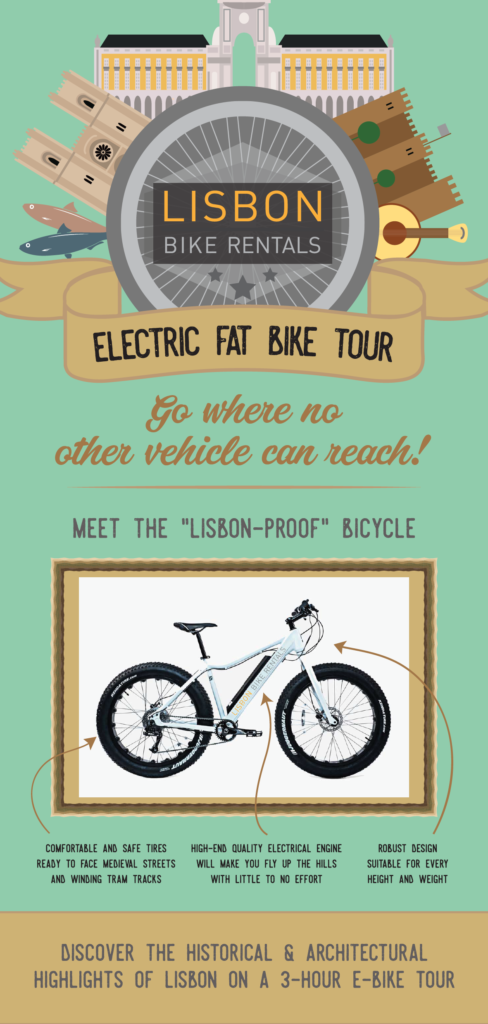 OUR LISBON ELECTRIC FAT BIKE TOUR
See the historical, cultural and architectural highlights of Lisbon and enjoy the best moments of your trip with a professional electric bike and an expert local guide on a 3-hour electric fat bike tour!
Starting from our shop in the city center, right next to Time Out Market, cycle through Praça do Comércio, Sé Cathedral, St. George's Castle, Graça, National Pantheon, Alfama and more! Explore the hidden enclaves and emblematic monuments as you ascend to spectacular viewpoints and gain valuable insight into the vast and beautiful culture of a city with thousands of years of history and a story to tell around every corner.
Our fun and state-of-the-art electrical bikes meet professional standards and will make you climb the hills of Lisbon with little to no effort. Our guides are expert bike riders, excellent communicators and enthusiastic storytellers and will tailor the experience to your interests and needs.
You have places to be – come with us! Excellent for groups, families and corporate events.